Spring has arrived! 
Or at least that is what the calendar says! The days have been soggy and windy, and the kids and I have a bad case of SPRING FEVER. After being cooped up inside, we're ready to dive into fun spring activities: explore the great outdoors, create spring crafts, and learn something new.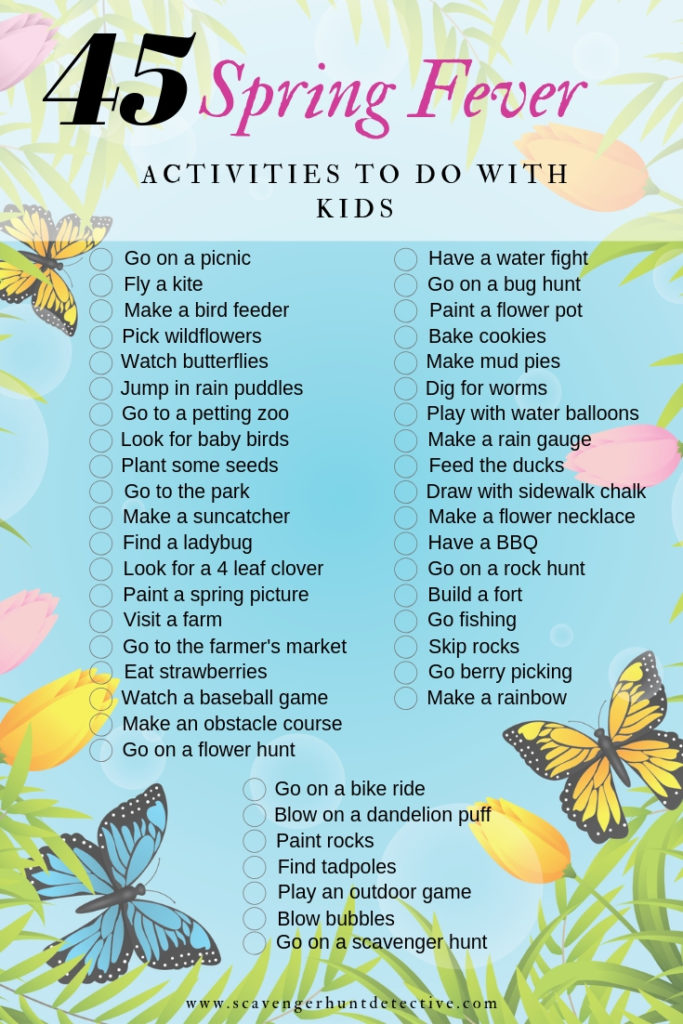 Are you looking for ideas to spark your imagination and make some memories with your kids? Join us as we send winter packing and have fun marking these activities off our spring bucket list.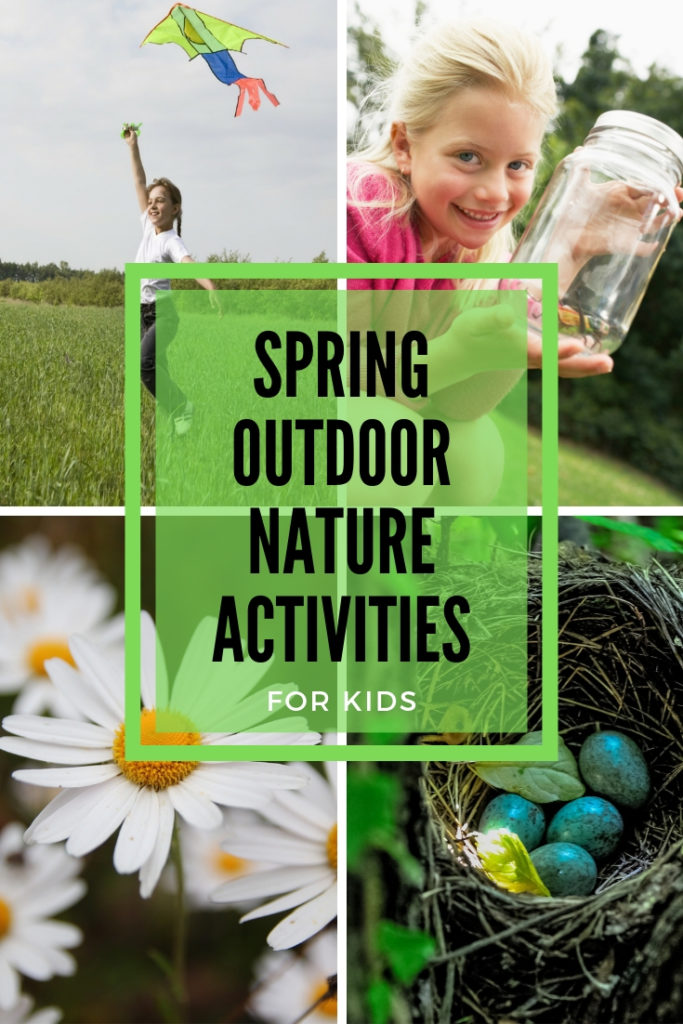 NATURE INSPIRED SPRING ACTIVITIES
 In the spring, there are plenty of windy days in our area of California.  While the wind can cause my allergies to act up, it is so rewarding to finally get the kite into the air and watch it dance in the wind.
 A few years ago, we bought a wonderful kit from Insect Lore which allowed us to watch the process of painted lady caterpillars changing into butterflies.  When it came time to release the butterflies, one stayed in our yard, flitting about and landing on my son.
 Embrace the warm spring rain.  Get out those rain boots and umbrella!  Splashing in puddles brings out the child in all of us.  
The birds are busy in our yard building nests and hunting for tasty worms.  We have an arbor in the corner of our backyard which is covered with climbing roses.  We have had several years when a bird has decided to build a nest in the protective cover.
 Most communities have numerous parks, but we all seem to automatically visit the same ones over and over.  Grab the picnic basket and go explore a new park. We have found some special ones over the years:  sand city, a dinosaur themed park, a park with a wonderful nature trail by a creek.
 Now is the perfect time to pull out the bikes before it gets too hot.  Teach your kids how to take care of their bikes, pump up the tires, and review safety rules. 
 There is little lake in our community which is home to many ducks and geese. While I enjoy feeding bread to the ducks, I am not a fan of the geese!  I have been chased too many times!!!
 When my kids were younger, we moved to a new town.  While exploring one of the local parks, we discovered a path which led along a creek.  In the spring, we found lots of tadpoles and water skeeters.
 Worms are so healthy for the soil.  We enjoy digging for fat worms and skinny worms and then watching them burrow themselves back into the soil.  Look in your area to see if there is an earthworm farm.  We went on a field trip to a farm and learned how the worm casings add nutrients to the soil. Learn how to make an earthworm hotel at Green Kid Crafts.
 While I am not really a huge insect fan, I must say I really like ladybugs.  They make me feel happy watching them fly around.  Are you like me and hold super still when one lands on you?  I don't want to scare it away.  If you want ladybugs for your garden, you can raise them with Insect Lore's ladybug kit.
 I have never found a four-leaf clover but that doesn't keep me from searching!  My sister found one when we were young, so I know they exist! 🙂  If your kids get discouraged trying to find one, make it all about the hunt for the biggest three-leaf clover.
 My kids have collected rocks over the years and have them all jumbled together in a bag.  They have found special rocks from our travels, bought them from rock shops and traded for them with friends.
 A fort does not even really have to be built.  It could just be the transformation of a shed building or even a cardboard box!
  We spent a lot of time fishing when I was growing up. My childhood was split between living in Alaska and living on a sailboat.  Our primary source of meat came from the fish we caught.  The fishing bug has not been passed on to my children.
 My kids love to skip rocks.  Anytime they are around water, whether the ocean or lake, they immediately begin the hunt for the perfect flat skipping rock!
 Strawberries and blueberries are getting ripe here in the spring time.  The farm stands are opening and the fruit is so fresh and delicious.  My mother-in-law had the most delicious blueberry bush in her yard.  We ate many buckets of berries in its years of production.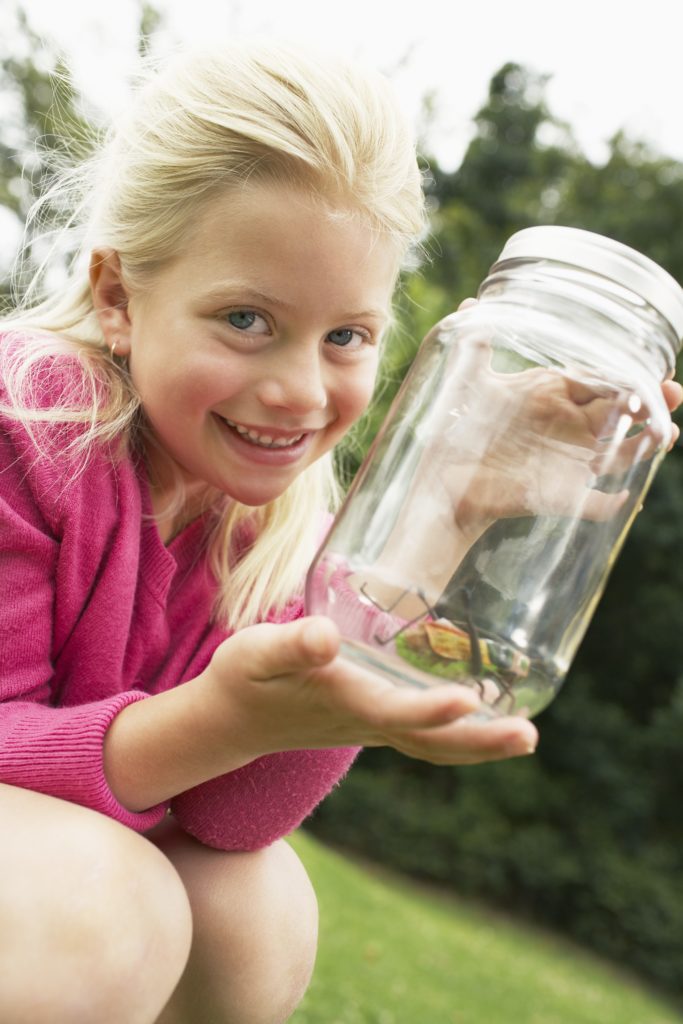 My son enjoyed hunting for different types of bugs when he was younger.  Grab a jar, a magnifying glass, and a notebook to record the bugs you find.
 My daughters loved playing in the mud- my son, not so much.  He didn't like getting his hands dirty (or sticky).The girls loved using their imaginations are creating all sorts of masterpieces.  As they got older, it wasn't mud pies anymore.  Our mud was clay-like, so they were able to sculpt the mud into amazing creations and let them harden.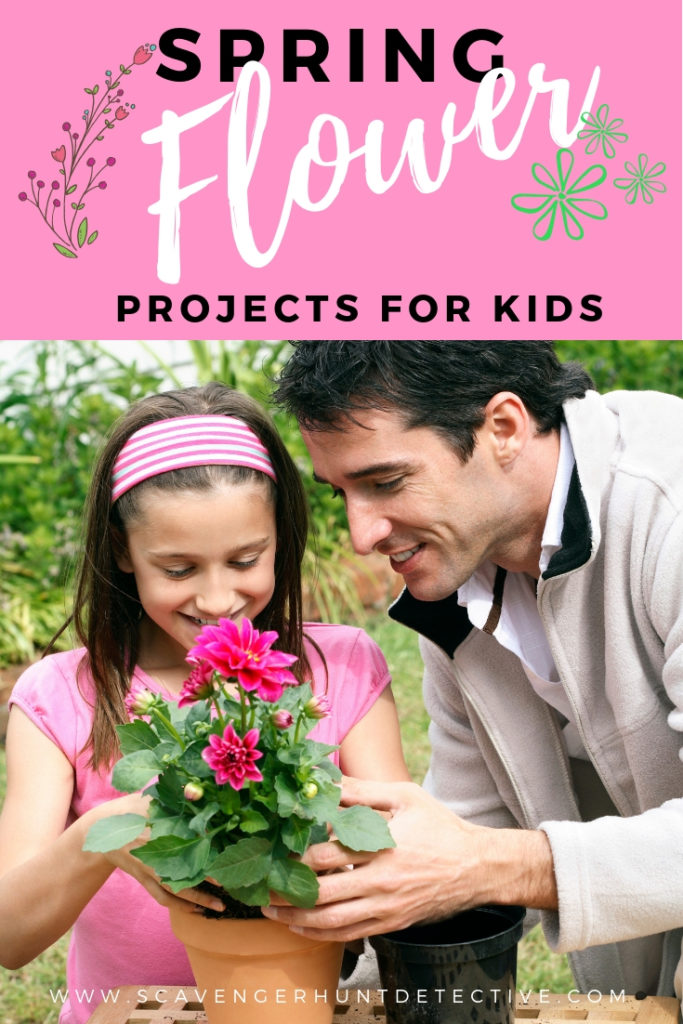 SPRING FLOWER POWER ACTIVITIES
The flowers are beginning to bloom.  The bright, beautiful colors inspire me to embrace everything flowers:  planting, crafting, and cooking.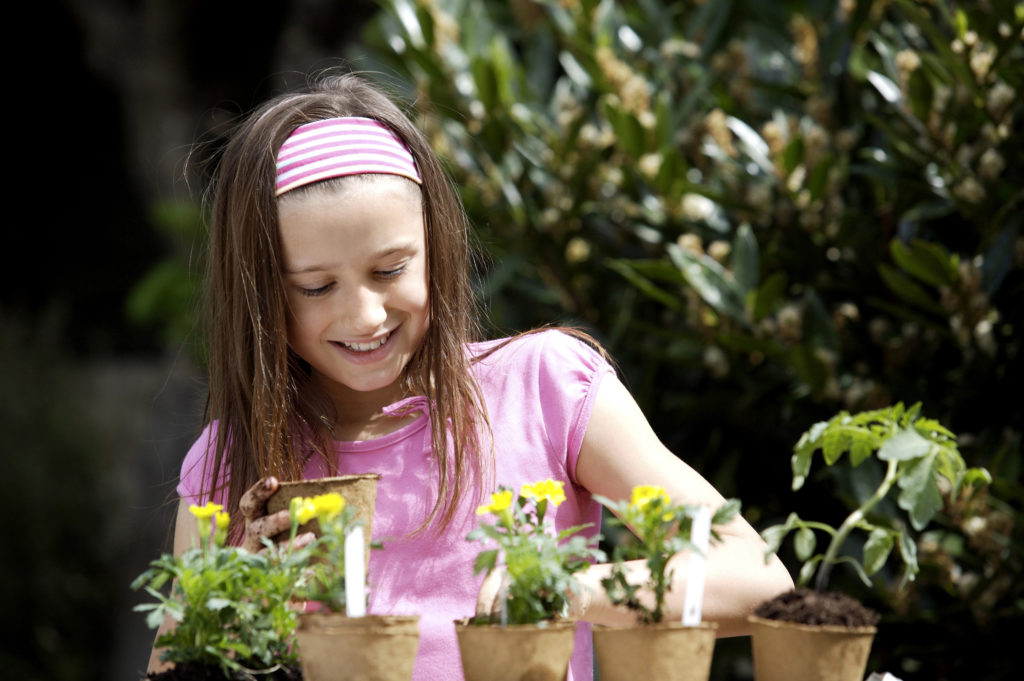 Whether you plant seeds or actual flowers, kids love digging in the dirt.  It is so rewarding to see those first sprouts come up.  I always plan to plant more bulbs in the fall, so we'll have pretty daffodils popping up in February.  I planted some several years ago and then forget all about planting more until I see their bright yellow faces.  Maybe this will be the year I remember!
 There are so many different types of flowers.  Get out a flower field guide and try to identify different types of flowers.  This is a perfect opportunity to visit a nursery and learn about flowers, take photographs, draw in a sketch book, or even go on a flower scavenger hunt!
 My daughters spent many hours when they were young,  sitting in a clover patch at the park tying together clover flowers to make necklaces and bracelets.
MAKE FLOWER-INSPIRED TREATS
 I found some super cute recipes for easy flower-inspired treats for spring.  They'll have us heading for the kitchen.  I have made flower  cookie pops for Easter.  They're not difficult to make and taste delicious!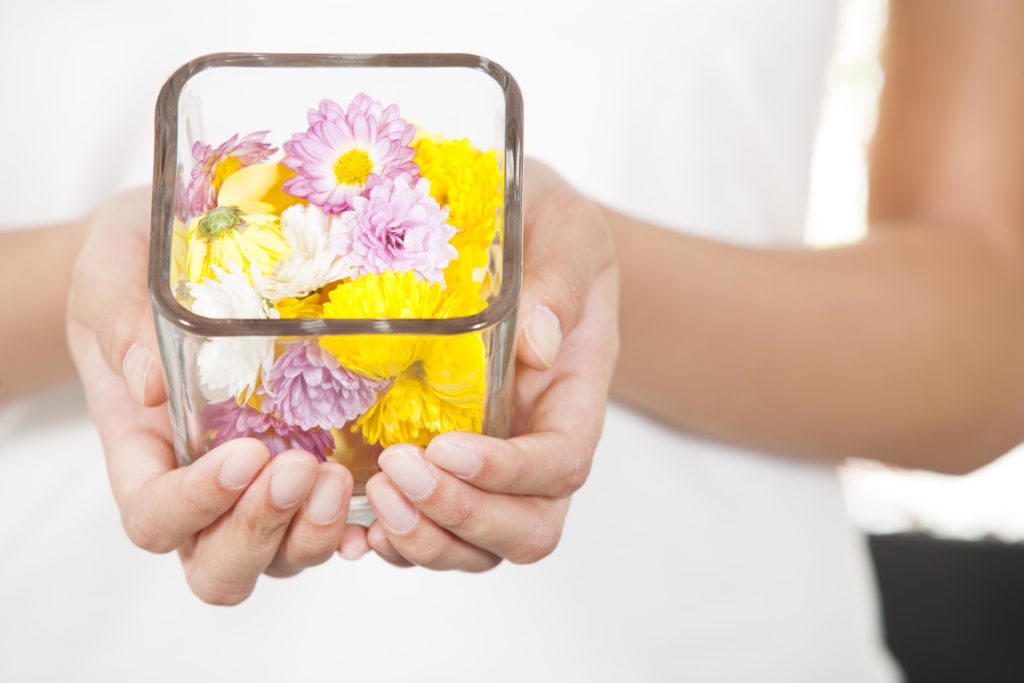 There are a few different methods to press wildflowers.  The most traditional method is to press flowers between the pages of a book.  Flowers can also be pressed using a flower press, an iron, or even the microwave.  Whichever method you use, be sure to use freshly picked flowers for the best color retention.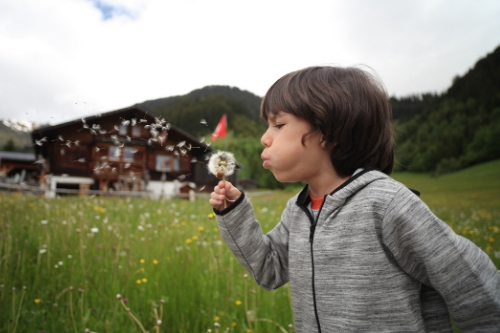 MAKE A WISH ON A DANDELION PUFF
 I know we don't really want dandelions growing in our lawns, but how wonderful it is to find the perfectly round dandelion puff just waiting to be blown, sending its seeds (our wishes) out into the spring air!
 It's time for science discovery.  You could choose a plant from your yard, but I would suggest you pick up a bedding plant (four or six pack) from the local garden center.  This will make it easy to brush away the dirt from the roots and see the whole structure of the plant.  Look for the petals, stigma, pistil, anther, ovary, ovule, corolla, filament, calyx and receptacle.  Did you know almost every flower contains both female and male parts?
EXPERIMENT: CHANGE FLOWER COLORS
 More science!- A white carnation works especially well for demonstrating how flowers draw water up through their stems and throughout the plant.  Place a white carnation with a freshly trimmed stem into a glass or vase of water dyed your choice of color.  Watch over the next few days as the color of the carnation changes as it absorbs the dyed water.
 The tiny flower seeds can be so difficult to see when kids are planting them in the garden.  Seed bombs are simple to create and make it easy to see where the flower seeds are being planted. Here is a seed bomb tutorial.
MAKE TISSUE PAPER FLOWERS
 These flowers are so beautiful, and while they look difficult to make, they really aren't.  I remember making these flowers when I was a child.  They can add a splash of color to your spring dining table!  Here is a great tutorial with a video.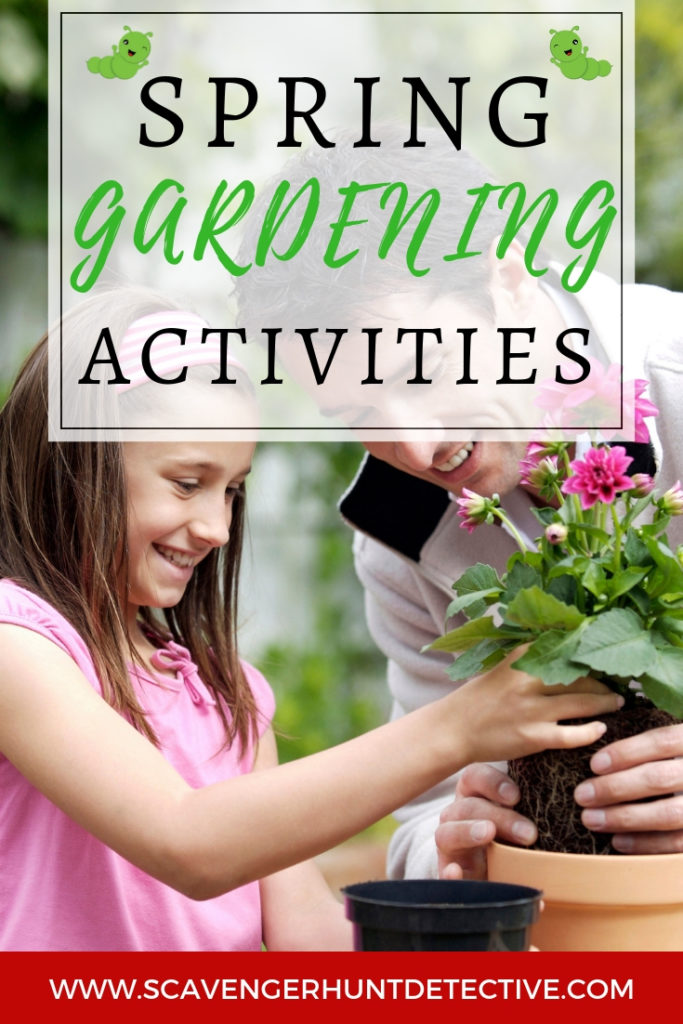 SPRING GARDENING ACTIVITIES
I know, I should have put gardening activities before the

flower power spring activities

for kids.  But, I love flowers, and in my heart, they just had to go first!
 Germinating bean seeds is a wonderful way to introduce your children to gardening.  The beans sprout easily.  By growing the seeds in a plastic cup or bag with paper towels, your children will be able to watch the seed sprout, grow roots, and grow.
 This is an activity which has fascinated me since I visited the Nevada County Fair.  There was an exhibit hall full of amazing fairy gardens created by children and adults.  Any craft store has the supplies to create a magical garden, but I recently found the Dollar Tree carried items as well.  And remember, you can always create your own props out of clay and popsicle sticks.  Here is a round-up of inspirational fairy garden ideas. 
 Growing a grass hut is easier than you might think.  All you need are a few simple ingredients: 4 new sponges, fast-growing grass seed, spray bottle of water, and a large plastic storage container. For full instructions, head over to Fab Art DIY.
 While you have your grass seed out, why not grow a "furry" (or should we say grassy) caterpillar.  These caterpillars have a lot of personality, and they won't change into butterflies and fly away.  It doesn't have to be a caterpillar.  Let your kids use their imaginations and see what animals they create.
 This activity is on my bucket list.  My own kids are too old to do this one now, but my students would love to grow a living teepee.  What a lovely spot to hang out with a friend or read a book!
 The wonderful thing about a container garden is that just about anything can be used to hold the plants. Your child might have an outgrown pair of rain boots, an abandoned toy truck, or want to build a container out of Legos.  Any of these items can house flowers or an herb garden.  For a collection of garden ideas, check out Growing a Jeweled Rose.
SPRING ARTS AND CRAFTS ACTIVITIES
Here you'll find a variety of spring craft activities.  Some of the crafts are to make items for your yard.  Others are to keep you busy inside when the spring weather is not cooperating and it's pouring outside.
SPRING FIELD TRIP ACTIVITIES
The sun is shining and there are so many places to explore.  Going on field trips are always tops on our list of spring activities.  As homeschoolers, we are winding down the school year and definitely experiencing "school-itis" (otherwise known as ready-to-be-done-with-school-for-the-summer syndrome!).
TOUR LOCAL HISTORIC SITES
GO HIKING AT A STATE OR NATIONAL PARK
GO TO A POND, LAKE, OR CREEK

 
SPRING COOKING ACTIVITIES
Berries are ripening.  Here in our area of California, the strawberry stands are opening.  They are overflowing with RED, RIPE, JUICY STRAWBERRIES!  There are so many delicious spring-inspired treats to make:  everything from strawberry shortcake and rainbow fruit skewers to mud pie!
SPRING INSPIRED SCAVENGER HUNTS
No list of spring activities for kids would be complete without scavenger hunts!  We

love

scavenger hunts.  They take an ordinary activity to a whole new level of engagement.  They can turn any outing into an adventure.  They provide the perfect opportunity to explore, engage, and learn!
FARMER'S MARKET SCAVENGER HUNT
RAINBOW COLOR SCAVENGER HUNT
WHERE TO START
There are enough activities to carry us all through spring and into summer.  If you feel overwhelmed with all of the choices, there are several options to help you use the list.
2.  There are 7 categories.  Choose one activity each day of the week from a different category. 
3.  Read through the ideas with your kids and see which ones they are most excited about. 4.  Write ideas down on strips of paper and place them in a flower pot on your table (maybe one you decorate together!)  Pick one out when you need a little inspiration. 
Which one do you want to try first?
 If you have any favorite spring activities, let me know!  I love to hear your ideas.