OUTDOOR NATURE ACTIVITIES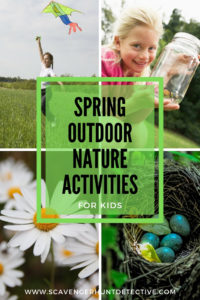 March and April bring a lot of breezy (or should I say windy days) to our area.  While the wind can aggravate my allergies, it is exhilarating to see that kite catch the wind and dance in the sky.
 Have you ever raised butterflies?  A few years ago, we bought a marvelous kit from Insect Lore which allowed us to observe painted lady caterpillars change into butterflies.
 Get out those rain boots and umbrella!  Splashing in puddles brings out the child in all of us.  Resist the urge to keep your kids dry.  One of my favorite memories is of my son jumping into a big puddle at the park.  The look of sheer joy on his face is a mental picture I snapped of the moment!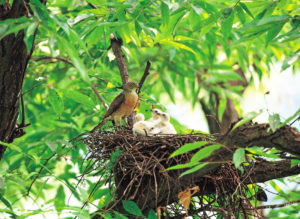 The birds are busy in our yard gathering up twigs, leaves, and bits of fluff to construct their nests.
 Do you ever notice you tend to go to the same parks over and over?  How about expanding your exploration to a new park?  We have found some gems hidden away in our community.
 Our town has a former railroad which has been converted to a bike trail.  It is several miles long and allows the kids to ride without having to worry about cars.
 While I enjoy feeding bread to the ducks at the local park, I give the geese wide berth!
 When my kids were younger, we lived near a creek and loved finding tadpoles and water skeeters in the spring.
 Worms are so healthy for the soil.  We enjoy digging for fat worms and skinny worms and then watching them burrow themselves back into the soil.  Look in your area to see if there is an earthworm farm.  We went on a field trip to a farm and learned how the worm casings add nutrients to the soil.  Head over to Green Kid Crafts to make an earthworm hotel for all those worms you find.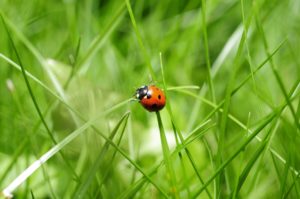 Ladybugs are one of my favorite bugs.  They just make me feel happy watching them fly around.  We feel so lucky when one lands on us, and we hold super still so it won't fly away.  Just like the butterflies, you can raise ladybugs with Insect Lore's ladybug kit.
 A four-leaf clover can be very difficult to find!  If your kids get discouraged, make it all about the hunt for the biggest three-leaf clover!
 Everyone has a different criterion for what makes a perfect rock to add to a collection.  Should it be smooth or rough? What shape should it be? Does it need to be a certain color?  Start your own special collection.  Many communities have Facebook groups for rock hunting.  People paint rocks and hide them around town, leaving clues in the groups to help kids find them.
 We have built blanket forts, snow forts, cardboard box forts, and even rock forts.  But we have never built a fort out of wood.  That might be a project to add to our to-do list.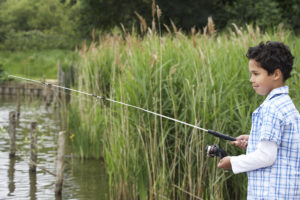 When I was growing up in Alaska, we spent a lot of time fishing.  As soon as it got warm enough (and the ice melted!), my dad loaded us up in the inflatable raft or canoe.  In reality, that didn't happen in Alaska until summer!
 This is a skill I have never developed, but my kids have all become pros at skipping rocks.  When we go to the lake, they immediately begin the hunt for the perfect skipping stones!
 Strawberries are getting ripe here in the spring time.  While you can buy them at the farm stands, heading to a farm where you can pick your own is always a delicious adventure.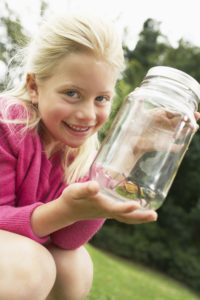 My son was enthralled with bugs when he was younger.  He even had a bug themed birthday party. In the spring, Dollar Tree often has bug catcher play sets.  Add a magnifying glass to see the bug up close and your kids will be ready to become entomologists (bug scientists!).  Encourage your kids to start a journal of bugs found and sketch pictures to remind them of unusual specimens.
 Who doesn't love to play in the mud and use their imaginations?  If your kids are too "old" to make mud pies, have them sculpt a masterpiece out of mud and let it harden.
 There are so many amazing scavenger hunts you can have outside in nature.  A scavenger hunt can make an ordinary backyard playtime or a trip to the park into an opportunity to make a memory and have an adventure.  A hunt can encourage your kids to pay attention to their surroundings and engage in exploration.
TIME TO GET OUTSIDE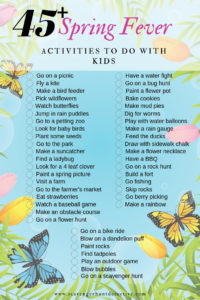 Let me know what activities your family loves to do in the spring!